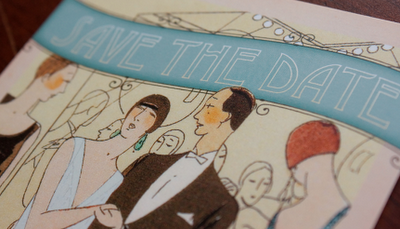 Sarah at Art Deco Weddings featured our Gatsby save-the-date postcard this week! The Art Deco Weddings website is a fabulous resource for all things vintage. Sarah created the site to help brides seeking inspiration for their upcoming nuptials.
She explains: "I'm a vintage-loving lady who, when planning my own wedding last year, spent hours upon hours roaming the internet looking for art deco/vintage wedding related goodies. There are lots of great vintage wedding resources, but I felt like the wedding planning community needed one central hub for deco delights, so here we are!"
The site is filled with ideas for 20s-inspired dresses, stationery, music, jewelry and more. She even has tutorials for makeup and pin curls! If you have an upcoming wedding or if you're just looking for nifty ideas, visit Sarah's site!
Click
here
to read the full post on our Gatsby postcard.