A lot has changed since our last studio tour in 2013. The biggest change of all was Big Ben joining Lucky Luxe full-time as co-owner and stepping up from the supporting role he's had since we started our little company back in 2008. You can read all the dirt on that over on my personal blog here. This old 1910 flatiron building was our first home together after our wedding, and it was very reflective of my colorful style from my early twenties. Now, as I'm closing in on 30 and sharing the studio space with my all-American husband, and as we're growing our not-so-tiny-anymore business and developing a line of history inspired goods for the home—it felt like it was time for a change. So, y'all come in!
Since you last visited, we've painted the stairs kettle black and Ben built a pin board to display some of our recent stationery projects.
The kitchen/photography room now bears the logo of our new line coming this fall!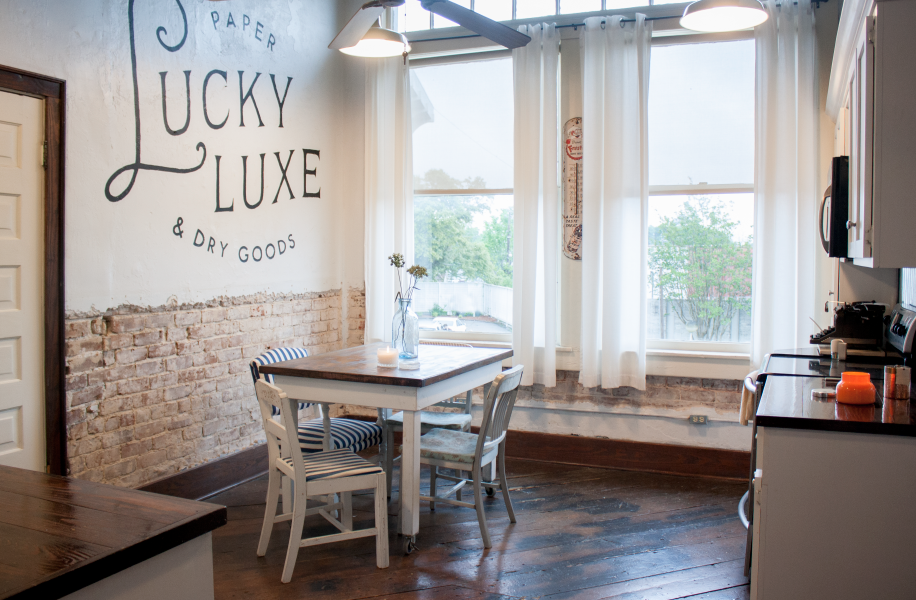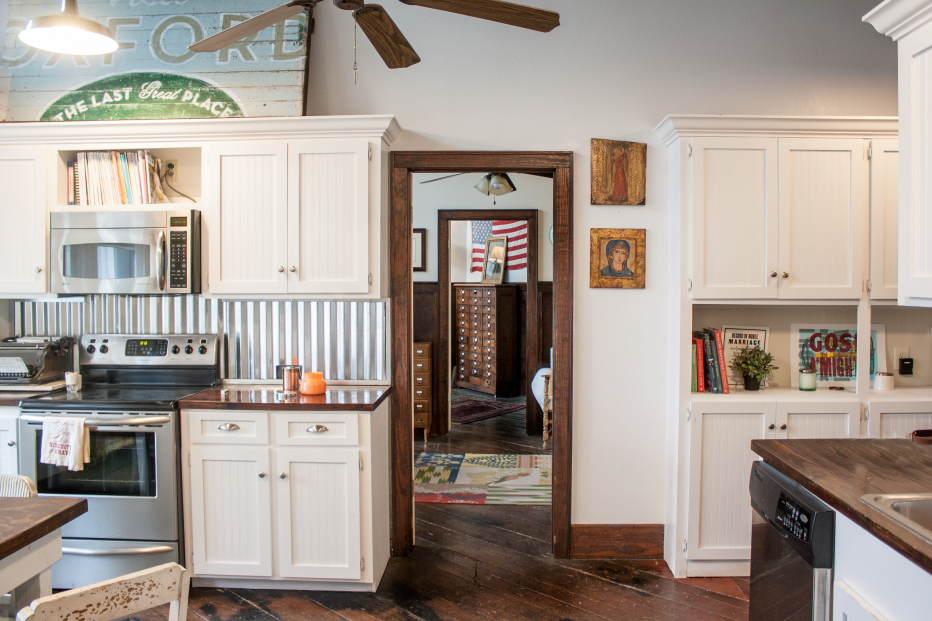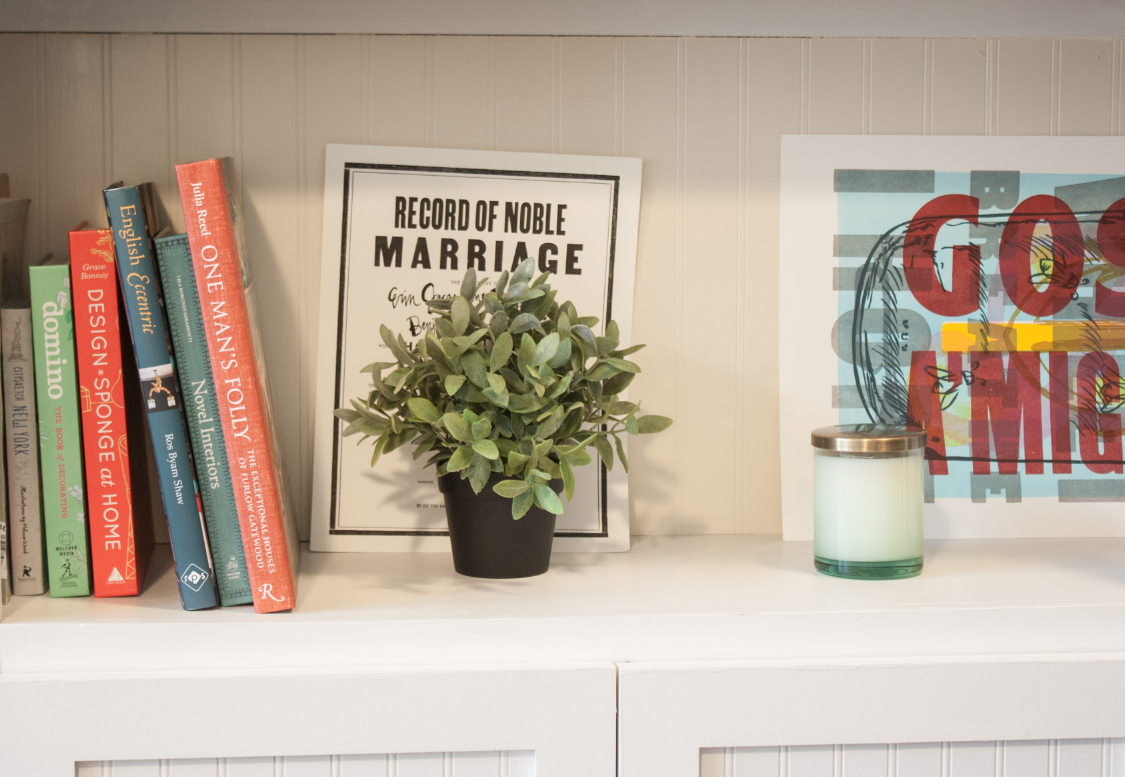 My office got a coat of Dover White paint (Sherwin Williams), and Ben built new wainscoting that's more befitting of grown folks. I also hung some canvas dropcloths for curtains in my office that slide easier than the old linen curtains and will block out the extreme heat in the summertime a bit. I can't get enough of the rumpled softness of a dropcloth.
We hit the flea markets in search of artwork and struck gold with these oversize oil portraits. I don't know who these people are, but they remind me for the world of my grandparents, Ralph—the WWII sailor, and Jack (her name was Jacqueline but she went by Jack—isn't that adorable?), whose engagement portrait was more glamorous than any movie starlet of the era. My sweet grandparents are now my paintings' namesakes.
I bought a few clocks from Ikea to keep me in sync with our most common client timezones.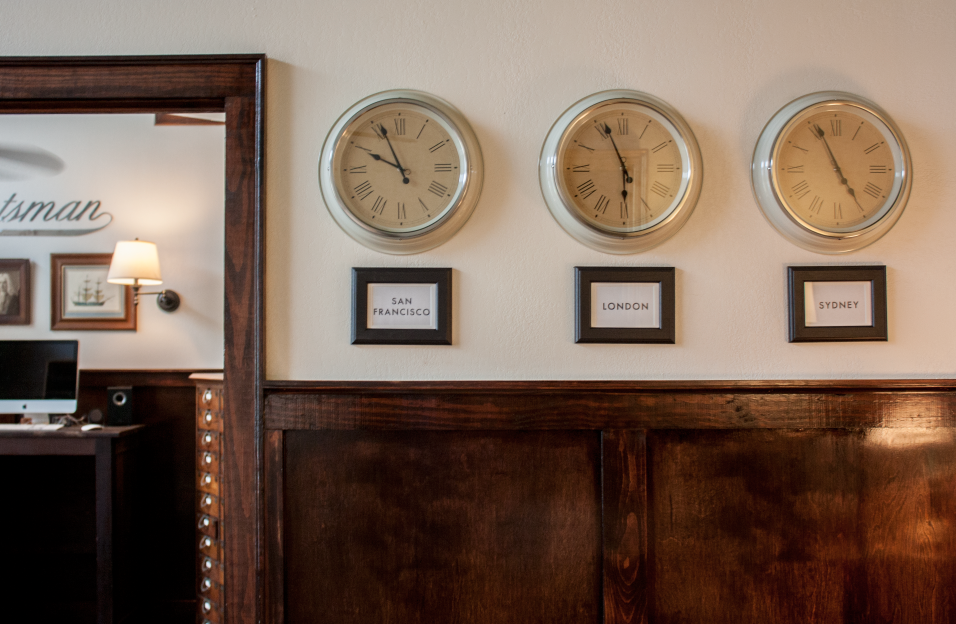 And then Ben's office. He's in charge of so much mailing and sample coordination, it was a natural decision to turn our sample room into his office. He exposed the brick wall, got fresh paint and new wainscoting as well, and I'm feeling pretty jealous of his antique hand-knotted rugs bought for a song on eBay. We're working together on the new line of home wares called Lucky Luxe Dry Goods and he's heading up Scotsman Co., his own line of historic, early American-inspired reclaimed wood furniture. He's always built dinner tables and armoires for family members who can get on his schedule, but he realized last fall that his specialty would be standing desks like the one he made for himself because when searching for furnishings for his new office there just weren't ANY options for great looking wooden standing desks, especially for someone who's 6'6″.
It's crazy how our business is expanding as our interests change and grow. Home design has been a fascination for me since childhood, and now our work is not just about historic type and paper design for us these days, but historic design at home, too… Which feels an awful lot like a dream to me.
We're so excited to show you everything that's in the works for 2015, but for now…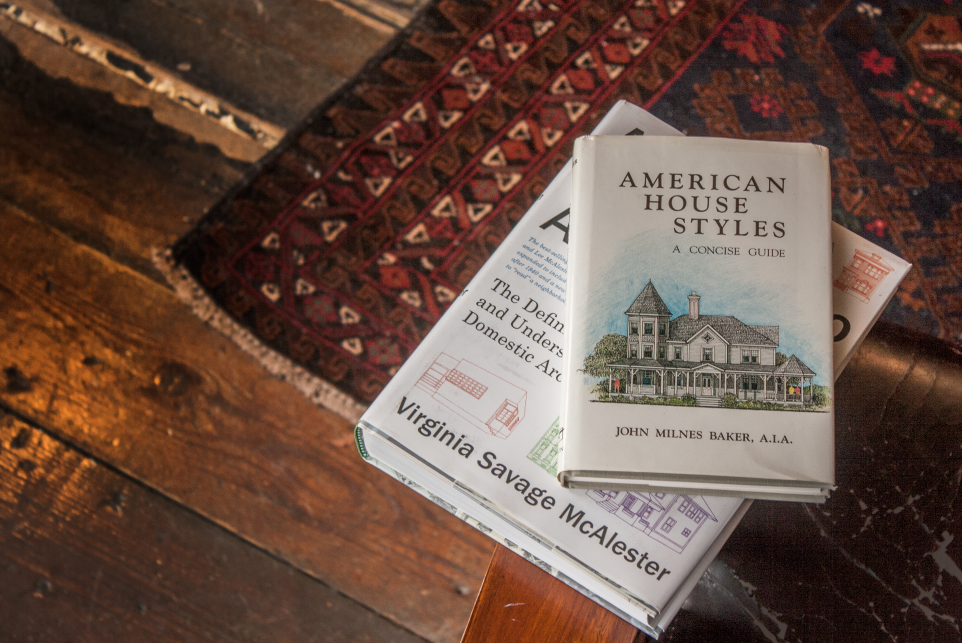 We're so glad you stopped by and took a look around!