Lucky Luxe is having a giveaway! Invite your friends to "like" the Lucky Luxe facebook page, leave a comment on this post, and you will be entered to win 3 box sets (green, red and gold) of letterpress  
Christmas stationery. We will draw a name when we reach 800 friends!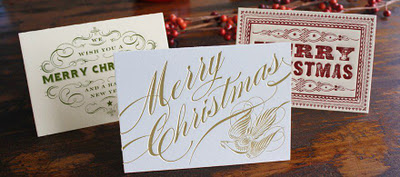 Pictured from left: Wreath (green), Dove (gold) and Christmas Sweater (red).
Or if you're just in the holiday spirit and wish to purchase some Christmas cards, click on one of the following links to order. Cards are available in Christmas Sweater, Wreath and Dove
.
Update: Our giveaway winner was Lawanda Winn from Jackson, Mississippi!